A few months ago I wrote a little
catch-up post
that featured all the little joys that would otherwise have slipped through the cracks. With all the activities that Christmas and the new year bring, I decided I was long overdue another, so take a deep breath and good luck!
Activities
Without wanting to state the obvious,
Christmas
and New Year were pretty big activities, and involved a lot of trekking up and down the country dragging hefty suitcases stuffed to the brim with presents.
While spending time with family over Christmas is a welcome treat, I knew I wouldn't have much time alone with Frank, so when Premier Inn's £25 room sale popped up in my inbox, I nabbed us a weekend in Nottingham before going back to work. 2014 marks 10 years since I graduated from uni. A decade. I can't quite believe it. I'll be popping a post up about it in the coming weeks, if writing it doesn't make me too emosh!
A definite perk last week was being invited to the Superdry London Collections: Men event, which featured the showcasing of their A/W14 collection. I'll blog about this properly soon, but for now let's just say Superdry as always didn't fail to disappoint. These guys really know how to put on a party! Frank found himself standing next to Samuel L Jackson, Nick Grimshaw spun some brilliant tunes and the collection was better than ever.
Other than that, the main focus of my time recently is concerned with flat hunting. The time has come, and Frank and I will be moving in together at the end of February! I'm very excited, but a little apprehensive, as I haven't lived with a man since 2009, but I'm excited about having my cats back and hopefully nesting in a pretty new pad.
Wear
Naturally my daily outfits have recently been dominated by chunky knits, thick black tights and cosy scarves, and this doesn't look set to change until the daffodils and crocuses start peeking out of the soil in spring. My office is a frustratingly unpredictable place, so layers are an essential commodity to avoid teeth chattering in the morning and melting in the afternoon. My current winter saviours have to be my
Superdry Hooded Super Windcheater
for keeping me nice and warm, and my
Hush Puppies Chamber Boots
for stomping through the bleak wet puddles to work.
Beauty
My skin feels a bit battered and coarse this winter, so I've been trying to keep the weathered look at bay with intensive moisturising. I was also sent some
Radical Skincare Exfoliating Pads
to try, which seem to be doing the trick. You use them after cleansing and toning, and the amount of muck that I find on them suggests my usual routine is not quite cutting the mustard. Time to rethink perhaps!
My hair has also been a focus. I'm growing it out, slowly but surely, and it requires a lot of conditioning considering it's so coarse. I made this little video a while back about my top haircare products at the moment, so take a look below!
Bought
I'm not much of a January sale shopper, but I do religiously head over to the Anthropologie website to check out the home section. I can't really justify £20 for a dinner plate, no matter how beautiful, but if you're quick you can usually nab a beautiful bargain in their sale. I picked up two
etched monogram glasses
(in an F for Frank and an S for Sally, obvs), and these totally decadent cheese knives, which are completely over the top but frankly at £10 instead of £38 I couldn't really complain, and after all, the art of cheese eating really should be a decadent process don't you think?
Not wanting to give in to winter quite yet, I'm always on the hunt for a pretty, colourful frock, and the Lashes of London £10 shop is always a good place to start. Frank bought me this
Amalee Floral Skater Dress
and I'm so excited for it to arrive! It screams 50s prom to me and I can't wait to wear it!.
Health
It feels as though my 30th year has been riddled with ill-health, having developed a
food intolerance to eggs and dairy
, getting shin splints before my first 10k and being referred to a physio for an irritated disc in my neck that has been causing me no end of back problems. Add to that several slips off the healthy eating wagon, and I can safely say 2014 is the year I need to focus on my health.
I'm under strict instructions from my physio to change my posture and strengthen my core, I've started the 5:2 diet and I've also stocked up on running goodies to help me rediscover my stride. I ended 2013 feeling pretty disappointed in myself for allowing the dial to slowly creep up on the scales, and for the first time in my life I'm the plumpest member of my family, which may seem trivial, but to me is a pretty big deal. So, in the next year my priorities are exercise and nutrition, in the hope that they become the norm. Unfortunately, as I type this I'm coughing and spluttering over my keyboard (ick) and feel a bit miffed that I lasted just 10 days before picking up a lurgy. Here are my current exercise goals for the week:
Walk from the train station to work instead of catching a bus (around 3.5 miles a day)
3 x pilates dvd
2 x runs
1 x gym session
1 x exercise dvd
Walk part of the Thames Path on Sunday (weather permitting) - 11 miles
Listen
One of the perks of having my beautiful
digital radio
is that I can listen to BBC Radio 6, which pretty much hits the nail on the head when it comes to my music taste. I've also been trying to use Spotify to keep in mind my favourite tracks. The beginnings of my January playlist are below in case you'd like to check it out.
One song I adore but sadly isn't on Spotify is this by Euros Childs. I love his voice so much!
Read
My reading pile is pretty chocka at the moment. Apart from the latest edition of
The Simple Things
magazine, I'm also plowing through the
Elegance of the Hedgehog by Muriel Barbery
. I've found it quite difficult to get into, but I'm slowly sinking into the plotline now, and am quite enjoying it after a bit of time off reading. I also bought
Hugh's 3 Good Things on a Plate by Hugh Fearnley-Whittingstall
for Frank, who is learning how to cook at the moment. The idea is that each recipe has 3 main ingredients, so it's perfect for newbie cooks and is only £4.99 on Amazon at the moment!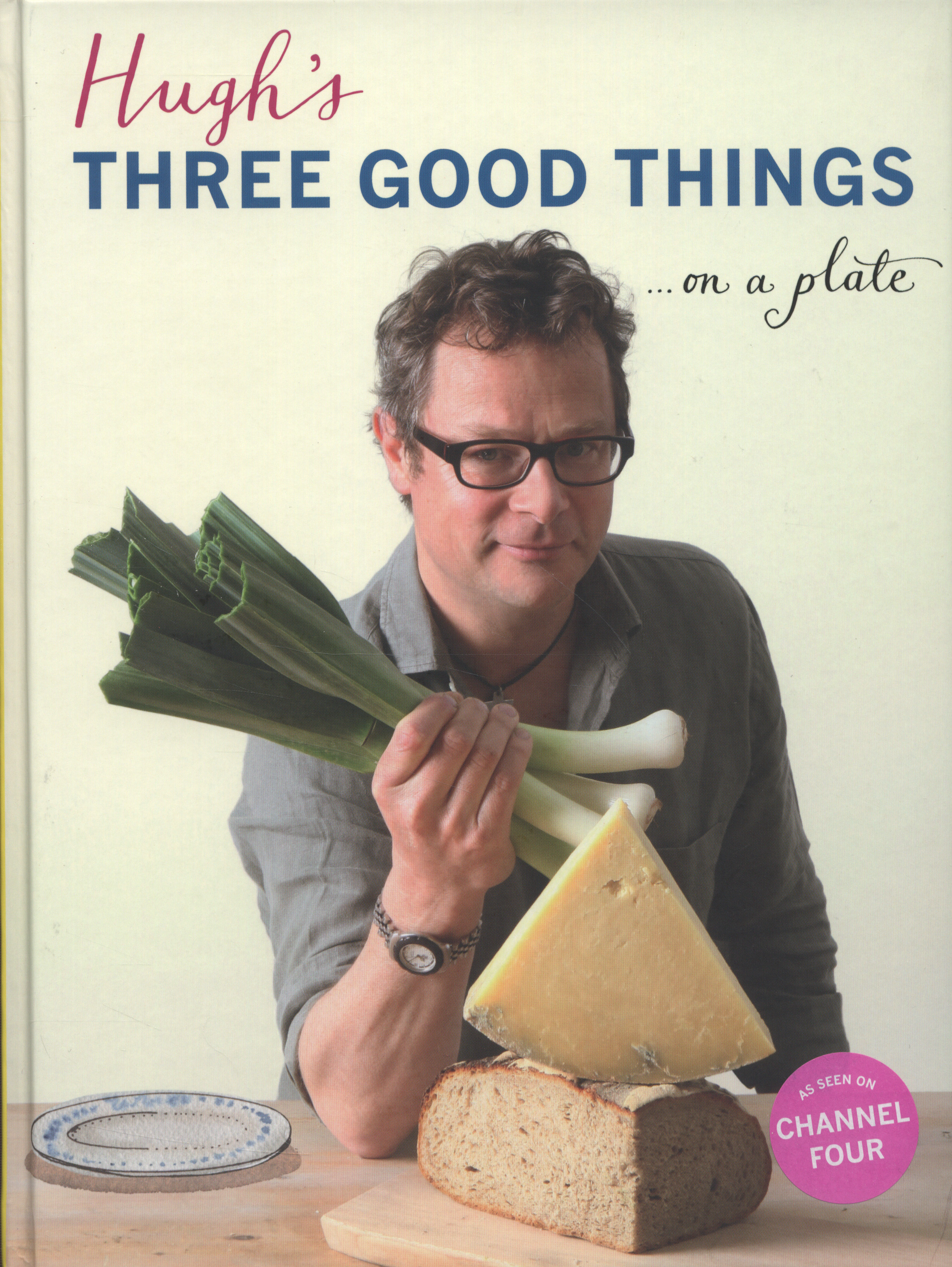 Cook
Alongside my post about
recent recipes
that had come up trumps, I also made a homemade potato and leek soup in my new slow cooker last night. I simply threw in a load of chopped potato, leek, onion, pepper, stock and a knob of butter, gave it a stir and left it overnight. I then blitzed it in the blender and voila!
Nest
My housemate flew over to Thailand and Cambodia for work recently, which spurred me into have a sort out in the kitchen. The dreaded 'cupboard under the sink' was overflowing with odd bits of Tupperware, empty cleaning products and bin bags galore. I even found 15 of those little measuring lids that come with your laundry detergent bottles. 15! Needless to say it felt very therapeutic to tidy it all up.
I have a huge array of candles, but being a natural hoarder, I find that I don't often light them as I'm reluctant to use them up. So, I've been making a special effort to switch off the lights in the lounge, light all my candles and bask in the warm glow.
As I mentioned before, Frank and I are moving in together in just over a month, so I'm slowly decluttering my possessions and whittling down my hoards. I'm so excited!
Freebies
While hopefully not annoying people too much, I'm partial to the odd cheeky competition retweet, and came up trumps just before Christmas by winning a bottle of
Elephant Gin
, which launched in September and looks set to take the spirits world by storm. I tried it over the weekend (it's so good!) and what's more 15% of every bottle sold goes towards elephant conservation, which can't be a bad thing!
I also scooped up a £100 Zara voucher, which I can't wait to spend on a new work handbag, as mine is slowly turning to tatters. I was also sent a Rituals goodie bag by Living Social, courtesy of Red Magazine, which was a huge perk as I'm an avid Rituals fan. This reminds me, the Rituals sale is ah-mazing! I scooped up the
Sunrise Scrub
and my favourite
Summer Rain Shower Gel
for just over a tenner. Whoop!
Watch
Having switched to Love Film instant, I've been eagerly looking for excuses to snuggle under my duvet with my laptop. Recently I've rediscovered a number of old favourites, including Carnage (which has some of the best dialogue I've ever seen), the Assassination of Richard Nixon and Morvern Callar.
Given that Frank is the biggest ancient history geek I've ever met, I also suggested that we try the series '
Vikings
' on Lovefilm. Oh. My. God. It is easily one of the best programmes I've ever seen. We blitzed through it in record time and can't wait for series 2 to come out in Feb!
Last night I also got round to catching up on some of my Christmas programmes, which naturally included Paul O'Grady's For the Love of Dogs. So cute!
And I think that's it! What have you been up to recently?
Follow me on GFC | Bloglovin' | Twitter | Facebook